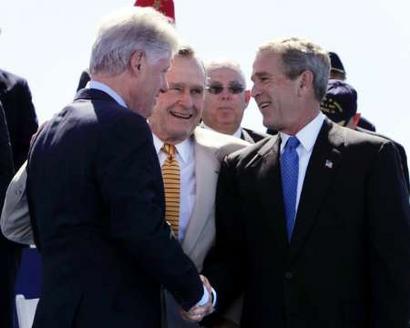 INFOWARS: BARBARA BUSH CALLS CLINTON SON Ms. BARBARA BUSH: "It's my great honor to introduce America's favorite new couple. Forget all those women on "Desperate Housewives." Everyone is talking about the odd couple, George and Bill, or as I now call him, son".
---
Barbara Bush Calls Bill Clinton 'Son'
Drudge Report | June 17, 2005
Former President Bill Clinton discussed his relationship with President Bush's father last night on CBS LATE SHOW.
Clinton: "I think we're good friends. I like him very much. I've always liked him. When he was vice president, I was still a governor. We worked together on a number of things. He hosted the governors, in 1983...at Kennebunkport."

When they made an announcement about raising funds for Tsunami relief in Houston former First Lady Barbara Bush "announced us. And she said she has started to call me son. I told the Republicans there, I said don't worry, every family has one, you know, the black sheep. I told them, this just shows you the lengths the Bushes would go to get another president in the family. I wish I could get them to adopt Hillary."
Rupert Murdoch Loves Hillary Clinton
Conservative Media Mogul (owner of FOX News) To Host Fundraiser For Liberal N.Y. Senator

NEW YORK, May 9, 2006
(CBS) To call them a political odd couple would be a rash understatement.
Conservative media mogul Rupert Murdoch will host a fundraiser for liberal New York Sen. Hillary Clinton, the Financial Times reports.
The mating ritual of the unlikely allies has been under way for months. Clinton set political tongues to wagging last month by attending a Washington party celebrating the 10th anniversary of Fox News, the cable news channel owned by Murdoch.
THE MENA CONNECTION: BUSH, CLINTON, DRUG RUNNING AND THE CIA
NBC's Tom Brokaw reports on Washington Times story about call boy ring & late night tours of white house.

Rare 1993 News report showing FBI involvement in WTC Bombing Dan Rather- 2 minutes

ABC NEWS report: Bohemian grove 1981 report showing pagan rites